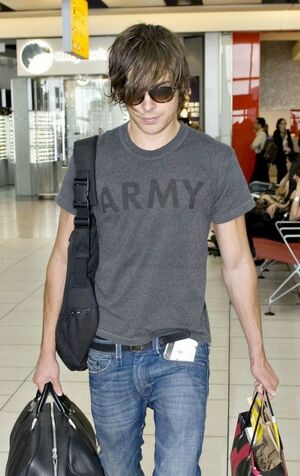 Zachary David Alexander "Zac" Efron is an American actor and singer. He was born on October 18, 1987, in San Luis Obispo, California, and later moved to Arroyo Grande, California.
Zac Efron became known for portraying Cameron Bale in the second season of the Summerland TV series (2005), Troy Bolton in the High School Musical film series (2006-2008), and Link Larkin in the 2007 film version of the Broadway musical "Hairspray", and has since then appeared in various TV and cinema films.
Images
Public appearances
2008
2009
2010s
Photoshoots
Movies
as Troy Bolton in High School Musical 1-3 (2006-2008)
as Mike O'Donnell in 17 Again (2008)
as Paul Doyle in New Years Eve (2011)
as Matt Brody in Baywatch (2017)
in black Diesel jeans
External links
Ad blocker interference detected!
Wikia is a free-to-use site that makes money from advertising. We have a modified experience for viewers using ad blockers

Wikia is not accessible if you've made further modifications. Remove the custom ad blocker rule(s) and the page will load as expected.