---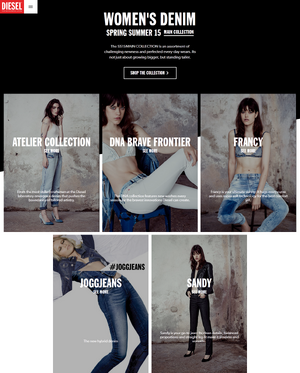 The women's denim spring summer 2015 campaign is an advertising campaign on the official Diesel website for the main collection of women's denim jeans for spring and summer 2015.
Collection
The collection is divided into four groups:[1]
Atelier Collection: From the most skilled craftsmen at the Diesel laboratory emerges a denim that pushes the boundaries of tailored artistry.
DNA Brave Frontier: The DNA collection features new washes every season for the bravest innovations Diesel can create.
Francy: Francy is your ultimate skinny: It hugs every curve and uses super soft technology for the best comfort yet.
JoggJeans: The new hybrid denim
Sandy: Classic, special, unique: this is a men's collection for the ages.
Atelier Collection
DNA Brave Frontier
Francy
Jogg Jeans
Sandy
References
↑ 1.0 1.1 Women's denim spring summer 15 main collection at www.diesel.com
↑ Atelier Collection at www.diesel.com
↑ DNA Brave Frontier at www.diesel.com
↑ Jogg Jeans at www.diesel.com
External links
Ad blocker interference detected!
Wikia is a free-to-use site that makes money from advertising. We have a modified experience for viewers using ad blockers

Wikia is not accessible if you've made further modifications. Remove the custom ad blocker rule(s) and the page will load as expected.