---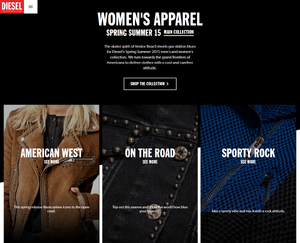 The women's apparel spring summer 2015 campaign is an advertising campaign on the official Diesel website for the main collection of women's clothing for spring and summer 2015. It is divided into three groups.
Collection
The collection is divided into three groups:[1]
On the Road: Trip out this season and show the world how blue your blood is.
American West: This spring release these unisex icons to the open road.
Sporty Rock: Take a sporty vibe and mix it with a rock attitude.
On the Road
American West
Sporty Rock
References
↑ 1.0 1.1 Women's apparel spring summer 15 main collection at www.diesel.com
↑ On the Road at www.diesel.com
↑ American West at www.diesel.com
↑ Sporty Rock at www.diesel.com
External links