---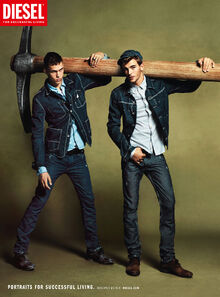 Portraits for successful living was an advertising campaign for clothing and accessories for men and women by Diesel in spring and summer 2012. The subsequent fall/winter campaign also had the same name.
Campaign
After the controversial Be Stupid campaigns of 2010 and their continuation in the Diesel Island campaigns of 2011, Diesel choose a less controversial campaign for their spring and summer 2012 collection. Models wearing clothing and accessories by Diesel are shown together with mostly oversized props, for example a giant egg, cooking pot or hammer, before a dirty green background. How these portraits shall lead to a successful living, however, is left open.
People
Photographers
Mert Alas and Marcus Piggott
Fashion Editor/Stylist
Ludivine Poiblanc
Set Designer
Jacki Castelli
Models

Edie Campbell
Patrick Kafka
Catherine McNeil
Alison Nix
Simon Nessman
Maria Palm
Ashley Smith
Liu Wen

and others
Gallery
External links
Ad blocker interference detected!
Wikia is a free-to-use site that makes money from advertising. We have a modified experience for viewers using ad blockers

Wikia is not accessible if you've made further modifications. Remove the custom ad blocker rule(s) and the page will load as expected.