---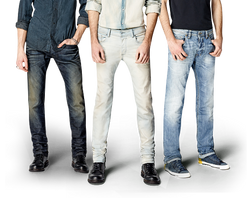 The men's denim spring summer 2014 campaign was an advertising campaign for the main collection of denim jeans for men by Diesel for spring and summer 2014.
Collection
The collection is divided into four groups:
DNA Mutation

These are the seasonal showcase of our most avant garde innovations in denim treatment. We worked hard to develop multi-layering technologies to colour and decolour the fabric, creating colours never ever ever seen in denim.

Our top secret recipes create a constantly evolving third dimension, enhancing the garment and giving birth to unseen mutations of colour.[1]

Blue Eyecons

Blue Eyecons are the most iconic and complex washes in terms of craftmanship and details, recognisable from all the other denim by eye catching details: the blue rivet on the fifth pocket, the blue internal labelling and the season edition on the internal front fly area. Dedicated to the most loyal Diesel lovers, they are the result of our highest achievements in production, fabrics and washes.[2]
JoggJeans

Jersey+Denim=JoggJeans. These are our hybrid denim. A unique fusion of design and new fabric that mashes the durability of denim with the comfort of sweatpants.

Cutting edge, these are crafted with a unique fabric that weaves together the style of denim with the versatility of jersey whose offspring is an activewear denim. You now have the freedom to move like never before.[3]

Essential Denim

Absolutely everything you would expect to find in a Diesel denim collection. The washes you expect, no, demand to find in any denim collection worth its salt.

Truly a denim for every occasion. From clean to treated. From dark to light. A denim for everyday. For everyhow. But not everybody.[4]

Special Edition
See also
References
External links
Ad blocker interference detected!
Wikia is a free-to-use site that makes money from advertising. We have a modified experience for viewers using ad blockers

Wikia is not accessible if you've made further modifications. Remove the custom ad blocker rule(s) and the page will load as expected.