---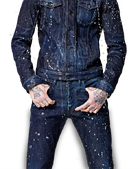 The men's denim fall winter 2014 campaign advertising campaign on the official Diesel website for the main collection of men's denim jeans for men by Diesel for fall and winter 2014/2015.
Collection
The collection is divided into six groups:
DNA Re-Evolution

A seasonal showcase of Diesel's most avant-garde innovations in denim treatments.

The Re-Evolution begins: looking back to our heritage while pushing forward to the future. New research and development in treatments create the modern masterpiece, as our D.N.A Re-Evolution pays homage to iconic DIESEL denim signatures: from abrasions and repairs to dirty washes and stone treatments. [1]

Denim Atelier

Couture represents the pinnacle of destroyed, artisanal denim, handmade in Italy.

Each limited edition pair receives a complex series of abrasions and repair techniques, pushing the boundaries of denim craftsmanship to new extremes. [2]

Essentials

What do you expect to find in a Diesel denim collection? This.

These are the washes that make you come back for more. There's a denim for every occasion, from clean to treated and dark to light. A denim for everyday and every way the wind takes you. [3]

JoggJeans

Jersey + Denim = Jogg Jeans.

A hi-tech performance hybrid product that offers the stretch of jersey and the look of denim, Jogg Jeans puts you in total control of your movements. It's activewear like you've never seen or felt before. [4]

Blue Eyecons

Blue Eyecons distils our wash philosophy. Timeless, season less and classic, these are pieces that will appreciate with time.

They are submitted to three days of handcrafting and artisanal detailing, and use Diesel's most iconic indigo washes making them the ultimate in collectible fashion. Made in Italy and born from the origins of denim. [5]

Rainblock

Diesel Rainblock is the perfect winter denim for the urban jungle.

The denim is enriched with a wind blocking layer ansd finished with a protective coating to repel water. Combining Diesel aethetics with winter praticality, Diesel Rainblock is the high performance denim. [6]
See also
References
External links