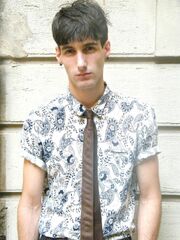 Leonardo Meloni, best known as Leo Mel, is an Italian model.
Person
Leo Mel is 188 cm (6' 2") tall and has dark brown hair and green-grey eyes. He comes from Milan, but travels all over the world for his modeling work.
For Diesel, Leo Mel worked as a model in the Men's denim spring summer 2014 campaign and in the Men's denim fall winter 2014 campaign as well as in some lookbooks.
Gallery
Men's denim spring summer 2014 campaign:
Men's denim fall winter 2014 campaign:
Lookbooks:
External links