Dmitriy Tanner was an American Marine and model.
Life
Dmitriy Tanner was born on August 31, 1991 in Ekimovichi, a rural okrug near the city of Desnogorsk in the Smolensk Oblast in western Russia, but he grew up in the US. Already before he graduated from Chopticon High School in St. Mary's County, Maryland, in May 2009, he enlisted in the United States Marine Corps.
In addition to his service with the Marines, he also started part-time modeling and became known by his work for Calvin Klein and Versace. For Diesel, Dmitriy Tanner worked as a model in the Portraits for successful living spring summer 2012 campaign.
Death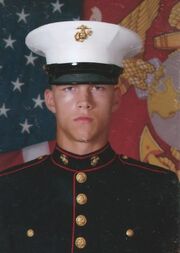 Dmitriy Tanner died on September 28, 2013 at the age of 22 from the injuries caused by a vehicle accident.
Family Statement

At 1:05am on Thursday 26 September 2013, Corporal Dmitriy N. Tanner was involved in a single rollover accident on Marine Corps Base Camp Pendleton. He was ejected from the vehicle and was further air transported to be treated for his injuries. It is confirmed that there was no alcohol or drugs involved in this accident. Corporal Tanner passed away on Saturday 28 September 2013 at 6:50pm. He is survived by his wife Cherie M. Tanner, his brother James R. Tanner Jr, and parents Ray and Michaela Tanner.
Gallery
External links