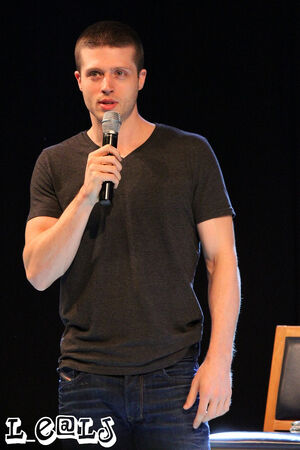 Brock Vincent Kelly is an American actor. He was born on August 17, 1985 in New Orleans, Louisiana.
Brock Kelly made his first TV appearance in the movie Costume Party Capers: The Incredibles in 2004. He played a recurring role as Josh in 11 episodes of "Days of Our Lives" from 2005 to 2006, made an appearance as a younger version of Dean Winchester in the Spuernatural seanso 4 episode After School Special in 2009, and starred as Zack Springer in 6 episodes of the Ravenswood TV series in 2013 and 2014. He also appeared in cinema movies such as Faded Memories (2008), Costa Rican Summer (2010), and Pitch Perfect (2012).
Images
Public appearances
Photoshoots
Videos
External Links
Ad blocker interference detected!
Wikia is a free-to-use site that makes money from advertising. We have a modified experience for viewers using ad blockers

Wikia is not accessible if you've made further modifications. Remove the custom ad blocker rule(s) and the page will load as expected.