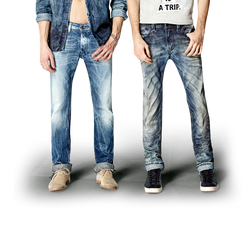 Blue Eyecons are a collection of denim jeans for men by Diesel.
Description
Blue Eyecon jeans are available in different jeans styles. They are characterised by special washings. The wash of the jeans undergoes a process of greater length in order to create a special look. Each pair of jeans are are submitted to three days of handcrafting and are accented with artisanal details to produce iconic indigo washes.
Special details of Blue Eyecon jeans include:
the blue rivet on the fifth pocket,
the blue internal labelling and
the season edition on the internal front fly area.
Collections
Spring Summer 2010
External links
Ad blocker interference detected!
Wikia is a free-to-use site that makes money from advertising. We have a modified experience for viewers using ad blockers

Wikia is not accessible if you've made further modifications. Remove the custom ad blocker rule(s) and the page will load as expected.