---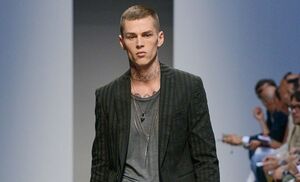 The Black Gold Menswear Spring Summer 2013 Milan Show was a fashion show in Milan for the Diesel Black Gold Collection for men in spring and summer 2013.
Event
The fashion show was held during the Milan Men's Fashion Week on Tuesday, June 26, 2012, at 11.30 am.[1]
26 models, among them one woman, presented 38 outfits from the Diesel Black Gold FW 15 collection.
People
Models[2]

Men

Rafa Bodgar (twice)
Kim Bong Man
Adonis Bosso
Fernando Cabral
John Cherkas (twice)
Ibra Cisse (twice)
Giancarlo Grossi
Miles Langford
Miles McMillan (twice)
Duncan Pyke (twice)
Alejandro Ravven
Andres Risso (twice)
Berthold Rothas

Simon Sabbah (twice)
Daniel Von Schubhausen
Johannes Schulze (twice)
Jake Shortall
Tomek Szczukiecki
Allen Taylor (closed)
Lawson Taylor (twice)
Norman Theuerkorn (twice)
Bastian Thiery (twice)
Daisuke Ueda (twice)
Duco Van Der Burg
Jester White

Woman
Images
Video
See also
References
↑ Fashion Weeks / Milan / Men's / Spring-summer 13 at www.modemonline.com
↑ Diesel Black Gold S/S 2013 Milan at forums.thefashionspot.com, June 26, 2012
External links
Ad blocker interference detected!
Wikia is a free-to-use site that makes money from advertising. We have a modified experience for viewers using ad blockers

Wikia is not accessible if you've made further modifications. Remove the custom ad blocker rule(s) and the page will load as expected.