---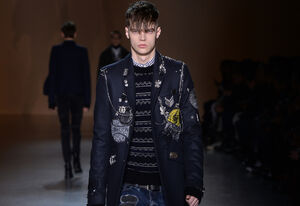 The Black Gold Menswear Fall Winter 2015 Milan Show was a fashion show in Milan for the Diesel Black Gold Collection for men in fall and winter 2015/2016
Event
The fashion show was held during the Milan Men's Fashion Week on Monday, January 19, 2015, at 9.30am.[1]
26 models presented 31 outfits from the Diesel Black Gold FW 15 collection.
People
Designer
Andreas Melbostad
Fashion Editor/Stylist
Marie-Amélie Sauvé
Casting Director
Piergiorgio Del Moro
Models


Karlis Adlers
Janis Ancens
Eduard Badaluta
Artur Chruszcz
Rich Cole
Freddie Dennis
Bakay Diaby
Felix Gesnouin
Jackson Hale
Flint Louis Hignett
Joe Ingham (exclusive, opened, twice)
Ezra Klein
Adrien Lesueur (twice)

Danny Oliver
Gryphon O'Shea (twice)
Luke Powell
Ben Rees
Serge Rigvava
Carl Hjelm Sandqvist
Ilir Shanja
Michael Sharp (twice, closed)
Liren Shih
Jeroen Teerlinck
David Vaicekavicius
Mees Visser
Sam Worthen (exclusive, twice)
Images
Video
See also
References
↑ Fashion Weeks / Milan / Men's / Fall-winter 15 / 16 at www.modemonline.com
External links
Ad blocker interference detected!
Wikia is a free-to-use site that makes money from advertising. We have a modified experience for viewers using ad blockers

Wikia is not accessible if you've made further modifications. Remove the custom ad blocker rule(s) and the page will load as expected.