---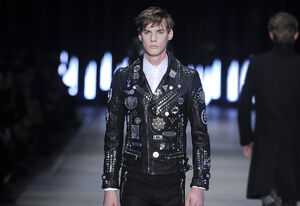 The Black Gold Menswear Fall Winter 2014 Florence Show was a fashion show in Florence for the Diesel Black Gold Collection for men in fall and winter 2014/2015
Event
The fashion show was held during the Pitti Uomo Fashion Week in Florence on Wednesday, January 8, 2014, at 9.00 pm.[1]
36 models, among them 7 women, presented 36 outfits from the Diesel Black Gold FW 14 collection.
People
Designer
Andreas Melbostad
Casting Director
John Pfeiffer
Models[2]

Men

Karlis Adlers
Yulian Antukh
Luka Badnjar
Jonas Binder
Laurenz Blindenbacher
Adam Butcher
Nicholas Costa
Declan Cullen
Jin Dachuan
Alexander Ferrario (Closed)
Sam Freedberg
Chris Garcia
Christian Garcia
Victor Gorincioi
Kristoffer Hasslevall
Jakob Hybholt

Jonas Kloch
Michael Lange
Ben Lark
Tim Meiresone
Sung Jin Park
Frederik Ruegger
Adrien Sahores
Guerrino Santulliana (Opened)
Andrea Silenzi
Tomek Szalanski
Tomek Szczukiecki
Cyril Trehoux
Dominic

Women

Magda Jasek
Maja Salamon
5 unidentified women
Images
Video
See also
References
↑ Fashion Weeks / Florence / Fall-winter 14 / 15 at www.modemonline.com
↑ Diesel Black Gold F/W 14.15 Florence at forums.thefashionspot.com, January 15, 2013
External links
Ad blocker interference detected!
Wikia is a free-to-use site that makes money from advertising. We have a modified experience for viewers using ad blockers

Wikia is not accessible if you've made further modifications. Remove the custom ad blocker rule(s) and the page will load as expected.