---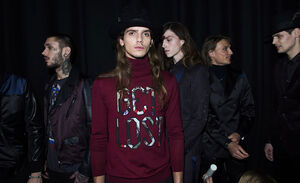 The Black Gold Menswear Fall Winter 2013 Milan Show was a fashion show in Milan for the Diesel Black Gold Collection for men in fall and winter 2013/2014.
Event
The fashion show was held during the Milan Men's Fashion Week on Tuesday, January 15, 2013, at 11.30 am.[1]
30 models presented 37 outfits from the Diesel Black Gold FW 13 collection.
People
Models[2]


Dawid Auguścik (twice)
Paul Boche (twice)
Rafa Bodgar
Pascal Bonvie
Adrian Bosch
Paraskevas Boumpourakas
Adrien Brunier
Ibra Cisse
Harry Curran
Oliver Greenall
Giancarlo Grossi
Ton Heukeuls (twice)
Noma Han
Miles Langford
Bruce Machado (twice)

Andrea Marcaccini (twice)
Miles McMillan (twice)
Sung Jin Park
Duncan Pyke
James Quaintance
Baptiste Radufe
Paolo Roldan
Reece Sanders
Johannes Schulze
Andrey Smidl
Norman Theuerkorn
Tomek Szczukiecki (opened and closed)
Alejandro Verpeilte
Jester White
Adrian Wlodarski
Images
Video
See also
References
↑ Fashion Weeks / Milan / Men's / Fall-winter 13 / 14 at www.modemonline.com
↑ Diesel Black Gold F/W 13.14 Milan at forums.thefashionspot.com, January 15, 2013
External links