---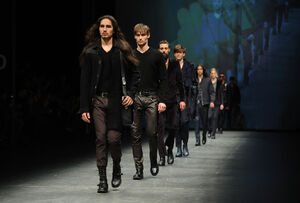 The Black Gold Menswear Fall Winter 2012 Milan Show was a fashion show in Milan for the Diesel Black Gold collection for men in fall and winter 2012/2013.
Event
The fashion show was held during the Milan Men's Fashion Week on Tuesday, January 17, 2012, at 11.30 am.[1]
21 models, among them one woman, presented 33 outfits from the Diesel Black Gold FW 12 collection.
People
Models[2]

Men

Daniel Bamdad (twice)
Frank Betancort
Paul Boche (twice)
Justin Bravo
Peter Bruder
Willy Cartier
Chris Fireoved (twice)
Jonatan Frenk (twice)
Giancarlo Grossi (twice)
Miles McMillan (opened, twice)
Stephane Olivier (closed)

Maximiliano Patane
Greg Payne (twice)
Jackson Rado (twice)
O'Shea Robertson (twice)
Fabian Schweizer (twice)
Tomek Szczukiecki (twice)
Han Xu (twice)
Beck ?
Christofer ?

Woman
Images
Videos
References
↑ Fashion Weeks / Milan / Men's / Fall-winter 12 / 13 at www.modemonline.com
↑ FW12 Milan Diesel Black Gold at mensmodelstalk.blog8.fc2.com
External links
Ad blocker interference detected!
Wikia is a free-to-use site that makes money from advertising. We have a modified experience for viewers using ad blockers

Wikia is not accessible if you've made further modifications. Remove the custom ad blocker rule(s) and the page will load as expected.