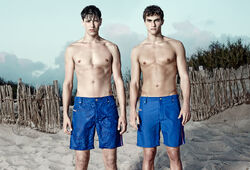 Beachwear is a type of clothing for men and women by Diesel.
Description
Beachwear are clothes designed to be worn at the beach, especially in the water. They genarally are made of woven fabrics of cotton or synthetic materials.
Among the different types of beachwear are:
for men
for women

swim briefs
trunks or boxers
boardshorts

one-piece swimsuits
bikinis (consisting of bra and pantie)
Images
See also
External links
Ad blocker interference detected!
Wikia is a free-to-use site that makes money from advertising. We have a modified experience for viewers using ad blockers

Wikia is not accessible if you've made further modifications. Remove the custom ad blocker rule(s) and the page will load as expected.