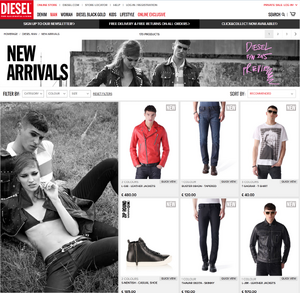 The Apparel fall winter 2015 preview is an advertising campaign on the Diesel online store for the preview collection of men's and women's apparel for fall and winter 2015.
Preview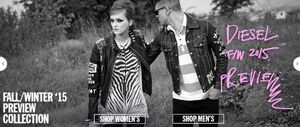 The preview is presented under different thematical aspects. On the respective pages, promotional pictures showing models in outfit from the corresponding collection are mixed with the presentation of the corresponding products which is similar as on the general shopping pages.
New Arrivals Preview Collection
Pop Riot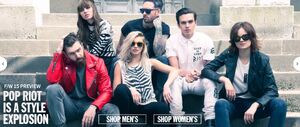 Zip it. Spike it: Wear it. Rock it. Forge your own style mash up. Adjust your attitude with high-octane looks that defy the norm.
Skinny punk jeans, bold graphic tees, grungy rebel leathers, sharp pencils and 60's pop prints - distressed and elegantly wrecked for daynight or nightday.[1]
Fade to Blue
Our latest Trend: Fade to Blue!
A Touch of Denim

A range of pieces that focus on the true mastery of denim; think treated fabrics and stand-out detailling, simple cuts and perfecr finishes.[2]
High Contrast Denim

Diesel denim is always different from the rest. Mixed, Juxtaposed, dual washed, distressed, twisted and yanked, our Fall Winter 15 Preview collection offers a diverse selection of unique washes and designs, created using cutting edge technologies.[3]
New Arrivals Main Collection

This is not a drill: hundreds of new pieces have just landed online. Think sleek textures and stand-out details. Get ready for new season styles, muted colours and clean lines with attitude.[4]
References
External links